Dear People & Friends of St. Clement's,
This coming Sunday is Advent Sunday, the beginning of the Christian, Church or Liturgical Year – whichever term you wish to use to describe it 🙂  For once, this year Advent begins on the date all Advent Calendar manufacturers think that Advent always begins – 1st December. The reality is that Advent begins four Sundays before Christmas Day. Therefore it can begin as early as 27th November or as late as 3rd December.
Advent Sunday also means a change of Lectionary Year – we change from Year C to Year A. Like a large number of Churches throughout the world, we follow a three-year cycle of Bible Readings known as the Revised Common Lectionary. In each of the three years, prosaically known as Year A, Year B & Year C, the Gospel reading is usually drawn from one particular Gospel. In Year C, which is just concluding, most Gospel Readings have come from the Gospel of Luke. In Year A, which will commence this coming Sunday, they will be mostly drawn from the Gospel of Matthew. There are some exceptions, especially around the major festivals of Christmas and Easter, when some readings from the Gospel of John are slotted in.
The word 'Advent', comes from the Latin Adventus, and means 'coming'. Particularly in the early part of Advent, our focus is on Christ's promised Second Coming or Second Advent, as we in turn prepare ourselves to be ready to celebrate Christ's first coming at Christmas. It is meant to be a penitential season, hence the liturgical colour is purple as in Lent, and we don't sing 'Gloria in Excelsis' again until the Midnight Eucharist on Christmas Eve. Therefore…..
Sunday 1st December at 11.00 – Sung Eucharist for Advent Sunday
Our readings will be Isaiah 2. 1-5, Romans 13. 11-14 and Matthew 24. 36-44. There will be parallel Children's Ministry and following worship, there will be Coffee Hour in the hall on the third floor of Klimentská 18.
Knowing how busy many people are in the run-up to Christmas, there will be no more Tuesday Evening Study Group sessions until early January. But I would welcome suggestions for study topics for when we do recommence.
On Saturday 7th December at 16.00, we are hosting ……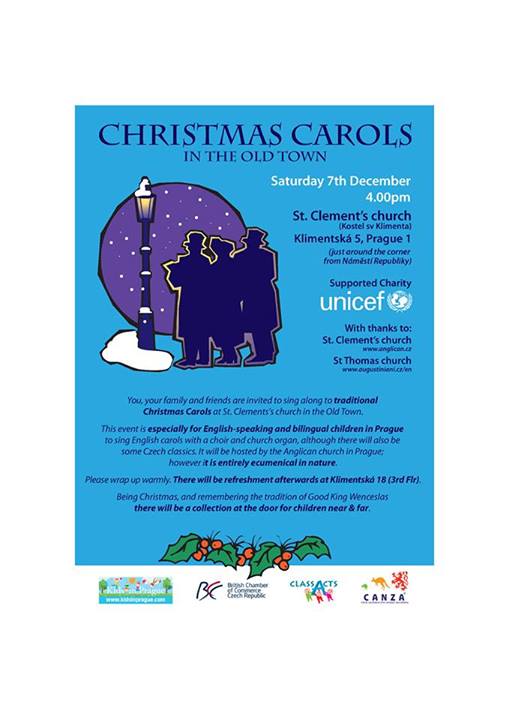 Details of all of the rest of our Services for Advent, Christmas and Epiphany can be found on this page of our website.
Finally for this week…..
A reminder that we still have a small number of packs of Christmas cards of one design, with English text, from those that we had produced two years ago. Packs of ten cards with envelopes for CZK 200, will be on sale again at the back of Church this Sunday.
Best wishes
Ricky