Dear People & Friends of St. Clement's,
This coming weekend is a busy one in the life of the Anglican Chaplaincy, across the Czech Republic.
On Saturday 7th December at 16.00, we are hosting ……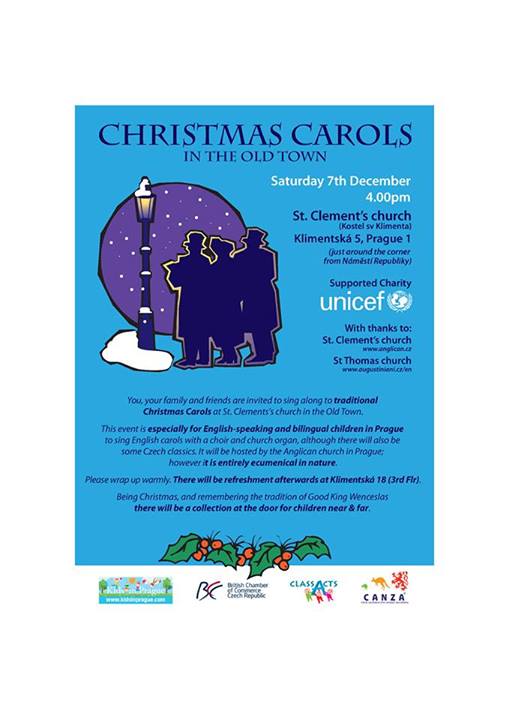 Then on Sunday morning…
Sunday 8th December at 11.00 – Sung Eucharist for the Second Sunday of Advent
Our theme will be John the Baptist, the one who prepared the way for the coming of Jesus. There will be parallel Children's Ministry and following worship, Coffee Hour in the hall on the third floor of Klimentská 18.
Finally for this weekend, on Sunday evening in Brno…….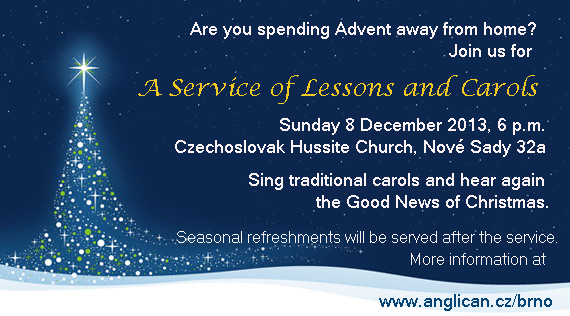 Please do join us for any, (or all 🙂 ) of these services.
A reminder that ……
….the Prague Service of Lessons & Carols will be held at 18.00 on Sunday 15th December.
A big 'Thank You' from Zannah Downs…….
…….to all of you who contributed stickers from Billa. She writes;
THANKS LOADS. I have them. So far I have collected a total of 11 toys. That is 330 stickers I believe. I hope for some more to come from other sources. The toys will go to Angel Prison Fellowship.
Finally for this week…..
A reminder once more that we still have a small number of packs of Christmas cards of one design, with English text, from those that we had produced two years ago. Packs of ten cards with envelopes for CZK 200, will be on sale again at the back of Church this Sunday.
Best wishes
Ricky