Dear People & Friends of St. Clement's,
As I wrote in my previous Weekly Message, last weekend was a busy one in the life of the Anglican Chaplaincy in the Czech Republic. On Saturday 7th December in the afternoon, we hosted an Ecumenical Family Carols event at St. Clement's which was extremely well attended, as was eventually 🙂 , our regular Sunday morning Eucharist the next day. I say 'eventually', because if I had tried to start the service at 11.00, there would have little more than a sextet singing the first hymn!
However, what most encouraged me last weekend, was our Service of Lessons and Carols in Brno on Sunday evening. The congregation was still relatively small but we had a number of new people, attending for the first time. One couple had found us via our Church website, but all the others were people who had been personally invited to come, by existing core members of the Brno congregation.
This coming Sunday, I want the Prague congregation to take a leaf out of the Brno congregation's book. As well as our Sung Eucharist at 11.00 in the morning, with parallel Children's Ministry and followed by Coffee Hour, in the evening at 18.00, there will be the annual Prague Service of Lessons & Carols.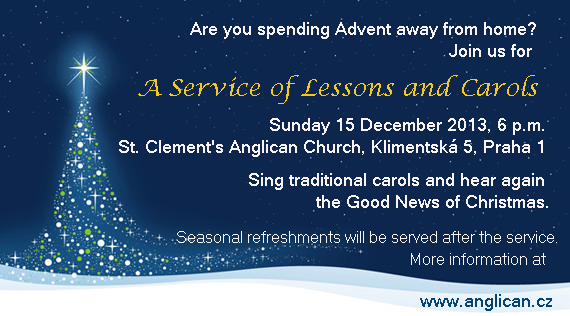 Please use this invitation, kindly adapted from the one used in Brno, by Katka Báňová, to invite your English-speaking friends to join you on this coming Sunday evening. Insert it into or attach it to a friendly email of invitation. Many English-speakers who are not regular Church attenders, love to sing Christmas Carols & will welcome this opportunity to do so. All it needs is for you to invite them to come along
Just three more things for this week
Sermons online
I remain eternally grateful to David Hellam, for using his IT skills to record the sermon at St. Clement's each Sunday & give it to Sybille or myself on a memory stick, so we can upload it to the website. Unfortunately, on Sunday 1st December – Advent Sunday, David forgot to bring his netbook with him to Church, in conjunction with all the other necessities for Children's Ministry. But both the sermon by Rev'd Dr Karen Moritz on Sunday 24th November – Christ the King, and mine from last Sunday – Second in Advent, are now available on our Church website. Just go here, and click on the one(s) you want to listen to.
The European Anglican
Copies of the new Winter edition of our Diocesan magazine, The European Anglican, arrived in the post this week. They will be available free, at the back of Church at both services this coming Sunday
Christmas cards
We still have a small number of packs of Christmas cards of one design, with English text, from those that we had produced two years ago. Packs of ten cards with envelopes for CZK 200, will be on sale again at the back of Church this Sunday.
I look forward to see many of you, both on Sunday morning & Sunday evening.
Best wishes
Ricky